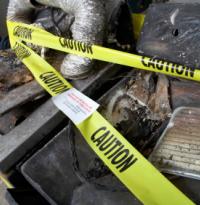 Prevent fires with routine washer and dryer maintenance
According to the National Association of Home Builders, the average washing machine has a life expectancy of 10 years and a dryer's life expectancy averages 13 years. The typical American family washes about 300 loads of laundry per year, so it is clear that we depend heavily on our washers and dryers. With all this use, some problems are understandable, but can be prevented or minimized with proper washer/dryer maintenance.
Common problems affecting washers and dryers range from the washing machine or dryer not powering on to leaks and flooding. The most dangerous problem is fire. According to the National Fire Protection Association (nfpa.org), clothes washers and dryers were the cause of an estimated 16,800 home fires in 2010 alone. These fires resulted in 51 civilian deaths, at least 380 injuries, and approximately $236 million in property damage. The leading cause of home washer and dryer fires was failure to clean. Viewing statistics such as these, we can clearly see why proper washer/dryer maintenance is crucial not only to extending the lives of our appliances, but to keeping our families safe as well.
Listed below are some typical problems experienced with washers and dryers, and their simple diagnoses.
Your washer/dryer won't turn on.

This could, of course, be due to an electrical issue, which requires the help of a washer/dryer service professional. If your machine has been experiencing heavy use, the problem could be due to an overheated motor. Give your clothes washer or dryer a break to allow the motor to cool down. If it still fails to turn on, give your washer/dryer repairman a call. He/she will know how to replace a faulty thermostat, switch, or thermal fuse fairly quickly.

Improper Drainage

If your clothes washer isn't draining properly, the problem could be caused by something as simple as a kink in the hose. More complicated is a malfunctioning water pump. This can be replaced by an experienced washer service professional.

The washing machine is leaking.

This could be due to a bad seal or gasket in the tub. These tend to deteriorate after heavy use. If your front-loading washer is leaking, the door may not be sealed properly. Check to make sure the seal is very clean—if it continues to leak, it may be time to replace the gasket. A water pump can have a bad seal as well. If in doubt, contact a skilled washer service technician.

The washer/dryer won't spin or tumble.

This is often caused by a loose or broken belt. If this is the case, you will hear the motor running even though the drum is not spinning. A malfunctioning door switch can also prevent the machine from spinning. The switch is intended to prevent injury to hands entering the washer or dryer, but if the door cannot close properly or the switch is bad, it will prevent the spinning action. More serious issues could be problems with a washer's clutch or transmission, or a clothes dryer's drum rollers, pulley, or glides.

The dryer's heat output is reduced or there is no heat at all.

One simple cause of this is improper airflow. A clothes dryer will not heat properly if it cannot get the right amount of airflow. Another common mistake is drying loads that are too big or too heavy for the setting you have chosen. If your settings do not match the types or amounts of fabrics you are drying, your dryer will appear to be ineffectual. Try reducing the size of your loads, or use a higher heat setting. Problems requiring skilled dryer repairs include a bad heating element, thermal fuse, or ignitor.
Preventing Fires with Simple Washer and Dryer Home Maintenance
The National Fire Protection Association states that 92% of all the home washer/dryer fires in 2010 were caused by clothes dryers, 4% by washing machines, and the other 4% by washer/dryer combinations. 8% of these fires were caused by electrical failure and 22% were caused by unclassified mechanical failure. The leading cause of these washing machine and/or clothes dryer home fires was failure to clean (32%). Sadly, this simple routine maintenance could have prevented so much property damage, many injuries, and even deaths.
To prevent such catastrophes in your household, follow these simple steps:
Always clean the lint filter after every load.
Once yearly, or any time you notice that your dryer is taking an unusually long time to dry your clothes, clean lint from the vent pipe, or hire a professional dryer service technician to perform the cleaning for you.
Turn the clothes dryer off when you leave your home or go to bed.
Additionally, please see the National Fire Protection Association's Dryer Safety Tips.
Qualified Washer and Dryer Maintenance or Repair
AAA Able Air Conditioning and Appliance Co. Inc. are qualified to perform any routine maintenance to your washer or dryer, as well as the most intricate washer/dryer repairs. 30 years in the business means we have seen—and fixed—it all. We also sell and install all major brands of washers and dryers, so contact us today with any concerns you may have.