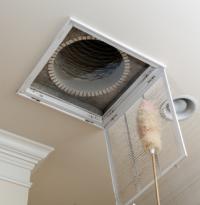 Spring Cleaning: A/C Maintenance
Springtime is here and now is the time to ensure your air conditioning system is ready for the hot summer months ahead. The Air Conditioning, Heating, and Refrigeration Institute (AHRI) released a reminder on March 13th to all homeowners that this is the ideal time to prepare cooling equipment before the heat is on. Stephen Yurek, President and CEO of the AHRI stated, "Heating and cooling is the single biggest energy consumer in a home, and accounts for about 40 percent of all the energy used by homeowners." He adds that taking steps now with springtime A/C maintenance ensures that your air conditioner is running efficiently and will help offset cooling costs this summer.
The AHRI offers these simple preventive maintenance tips:
Check the air filter to be sure no dust is collecting on the evaporator coil fins. If the A/C filter is dirty, change it. Be sure to turn off power to the air handler first, so that dust is not blown throughout the home if the fan comes on while the filter is out. Position the filter according to manufacturer's instructions before turning the air conditioner on again. Simply keeping your A/C filter clean can cut power consumption in your home by 5-15%!
Take a look at the air vents inside your home. Make sure they are not obstructed by furniture or artwork. Your air conditioner needs air to circulate freely to operate with optimum efficiency.
Check your outdoor A/C condensing unit (the large metal box) for debris that can block airflow. Grass, leaves, and dirt are common obstructions that reduce air conditioner efficiency.
Every now and then you should spray your outdoor air conditioner condensing unit with a garden hose. This helps keep the unit clean and washes away built up debris.
The Air Conditioning, Heating, and Refrigeration Institute (AHRI) also recommends that an experienced air conditioning service technician perform annual maintenance on your A/C. A knowledgeable A/C professional will find and fix problems in your air conditioning system, and may prevent potential issues before they begin to cause trouble during the heat of the summer. Be sure the technician checks for proper refrigerant levels, captures and evacuates any refrigerant necessary, and checks belts and oils motors. Additionally, central air conditioning system ducts must be checked for leaks and sealed where necessary, air flow through the evaporator coil should be measured, electric terminals and contacts should be checked for tightness and proper conductivity, and the thermostat needs to be evaluated for accuracy.
Finally, AHRI recommends that homeowners establish a service contract with a trusted air conditioner maintenance contractor. Scheduled maintenance should be performed in the fall and spring when the weather is mild to prepare for the following seasons. A working relationship with a knowledgeable A/C service contractor will ensure that the customer receives priority during the busy summer when problems are more likely to emerge. Stephen Yurek commented, "With proper maintenance, central air conditioning and heat pump units should last at least 12 to 15 years....Spring is a great time to think about getting service before hot weather arrives and the rush for service is in full swing."
AAA Able Air Conditioning & Appliance Co. Inc. has provided the South Florida community with excellent and reliable A/C service, repairs, and maintenance for over 30 years. To help you get ready for summer we have added a 16 point A/C checkup spring special coupon. Our family-owned and operated business is proud to offer same day service, all day, every day. Spring is a great time to schedule a routine maintenance visit on your A/C--mention our Air Conditioner Tune-Up Special to receive a discount on your visit!