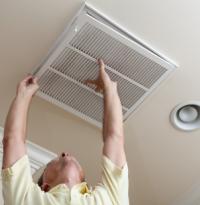 The Importance of Controlling Mold with Indoor Air Quality Services
Molds and mildew are fungi that serve as the earth's natural recycling service, feeding on dead or decaying organic matter. Molds, while essential to the cleanup of the planet, can pose serious health risks, especially here in South Florida, where warm temperatures provide a comfortable home in which mold can thrive. Approximately 57 million Americans suffer from mold-related illnesses, and many of these cases may be misdiagnosed as other sicknesses, including fibromyalgia, rheumatoid arthritis, and nervous system disorders. Many of these misdiagnoses have been successfully cured with mold exposure treatment.
South Florida's warm, humid environment makes a welcome breeding ground for various types of molds. Mold spores need four basic things to grow and thrive: Food, Proper Temperature, Oxygen, and Humidity. Molds love to feed on wood, insulation, paint, boxes, and dirt—all common things found in storage areas of our homes and businesses. Actually, almost any substance containing carbon atoms can be a food source for most molds, so finding the right nutrients to support mold growth is never a difficult task. Additionally, molds can grow at the same temperatures that humans enjoy, so South Florida's warm weather provides excellent conditions for abundant mold growth. Given the ease of living many molds can find in South Florida, as well as the abundant amount of illnesses these molds can cause, it is clear to see why it is so important to control mold growth. This growth can be controlled by cleaning air ducts and keeping interiors clean and dry.
Indoor Air Quality (IAQ)
Indoor Air Quality, or IAQ, refers to the quality of the air in a building or structure, especially as it relates to the health and comfort of the building's occupants. Indoor Air Quality problems can arise from a number of factors, including location of the building, poor design or construction, improperly operated or maintained heating, ventilating, and air conditioning systems (HVAC), as well as poor temperature or humidity control. Common pollutants affecting Indoor Air Quality are second-hand smoke, radon, molds and other allergens, carbon monoxide, volatile organic compounds (VOC's), Legionella and other bacteria, asbestos, carbon dioxide, and ozone. Reduced Indoor Air Quality can lead to symptoms such as headaches, fatigue, trouble concentrating, and irritation of the eyes, nose, throat and lungs. It has also been linked to specific diseases, such as asthma and even cancer in the long term. One indicator of poor Indoor Air Quality is that the occupants feel sick while in the building, but shortly after vacating, they begin to feel better. Indoor Air Quality can be tested by collecting air samples, monitoring human exposure to pollutants, gathering samples taken from building surfaces, and computer modeling of air flow within the building. If you feel you need the assistance of a registered Indoor Air Quality Specialist, it is advised that you contact an independent third party inspector before hiring anyone to do any IAQ maintenance or repairs.
The State of Florida has posted The Florida Indoor Air Quality Business Listing on the web at http://doh.state.fl.us/environment/community/indoor-air/iaqbusinesses.pdf to assist in finding a state-registered inspector.
Tips for Maintaining Indoor Air Quality and Controlling the Growth of Mold
Maintaining Indoor Air Quality
Be sure all work/living spaces are centered in well-ventilated areas.
Do not block air vents or grills.
Water and maintain indoor plants properly to minimize noxious off-gassing.
Dispose of garbage properly and promptly.
Store food properly.
Use non-chemical pest control options as often as possible.
Avoid keeping products or chemicals in the building that could release harmful gasses.
Have your Heating, Ventilating, and Air Conditioning System (HVAC System) properly maintained as according to manufacturer or building design instructions. OSHA, the Occupational Safety and Health Administration, has posted an HVAC System Maintenance Checklist on the web at http://www.osha.gov/Publications/3430indoor-air-quality-sm.pdf
Controlling Mold Growth
Keep your home/office clean and dry. Without moisture, mold cannot grow. Keep humidity below 60%, using a dehumidifier if necessary. If you have a central air conditioning system, however, and need to use a dehumidifier to keep your humidity level below 60%, it is time to have your air conditioning system checked for malfunctions.
Be sure to vent moisture from showering and cooking to the outside of the building.
Clean and dry spills within 24 hours.
Do not carpet bathrooms or basements.
Consider having your Air Ducts cleaned. Speak with your doctor and A/C Professional first, however—they can help you decide if it is necessary for your individual situation. The United States Enviromental Protection Agency (EPA) has a wealth of information posted in their online article, "Should You Have the Air Ducts in Your Home Cleaned?" http://www.epa.gov/iaq/pubs/airduct.html
AAA Able Indoor Air Quality Services (IAQ Duct Cleaning, Replacement, and Repair)
AAA Able's exceptional A/C Sales and Service Team have proudly served the South Florida community for more than 30 years. You can trust our Indoor Air Quality Services to keep your family or employees happy, healthy, and productive all year long! As a Florida Power and Light (FPL) Participating Contractor, we can help you qualify for rebates on duct repair / replacement as well as entire central air conditioning system replacement—saving you hundreds or thousands of dollars! Contact us today.
AAA Able does the job right, fast, and won't break the bank.