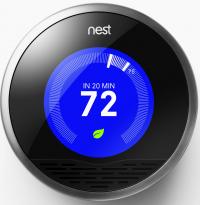 There was a time, in the not so distant past, in which the luxury of regulating the temperature of one's home was reserved for well-to-do families in urban areas. But the days of suffering through humid summers and frigid winters with only ceiling fans and wood burning fireplaces have long since ended. In these increasingly modernized times, companies have been developing new technologies to make life more convenient for everyone. The newest of these technologies, recently debuted by companies such as Nest and Honeywell, are the first in what is sure to be a long line of smart thermostats. In the wake of this new development in smart technology, one might ask "what benefits do smart thermostats offer that makes it worth upgrading my heating/cooling system?"
Upgrading your A/C thermostatis easier than you think!
When it comes to upgrading one's home, many of us struggle with the idea of installing new, technologically advanced gadgets. While the idea of installing a wireless wall mount for your TV may put you off, installing a smart thermostat is easier than you think! Nest claims that "if you're comfortable installing a light fixture, you can install the Nest Thermostat yourself." But if you're not sure you can handle the installation on your own, A/C professionals will be more than happy to handle the process for you.
More importantly, what can a "smart" thermostat do for you?
A smart thermostat offers more benefits than simple installation, the thermostat cannot only learn your heating and cooling needs, it can save you money. One of the most exciting aspects of a smart thermostat is that it can learn and adjust to your heating and cooling needs. Programmable thermostats have the extra benefit of saving you money, and the new smart thermostat offers even bigger savings. The Nest Thermostat as well as Honeywell's WiFi Smart Thermostat, learns your heating and cooling needs and adjusts accordingly. This smart thermostat learns what temperatures you like and creates a personalized schedule according to your needs. Additionally, smart thermostats can be programmed to your phone, tablet, and computer so that you can adjust heat and cool your house on the go! Why is this necessary? Most of us have left on a vacation, a business trip, or a weekend away without thinking to turn off or turn up the air conditioning. There's nothing like wasting money on air conditioning when you're not even home!
But what about saving you money?
One of the most unique aspects of the smart thermostat is its ability to save you money. Un-programmed thermostats can often run up your energy bill, costing you money that could be better spent (or saved)! In a world where heating and cooling costs account for nearly 50% of household energy usage, the prospect of saving money through the use of a new thermostat is highly attractive.
Smart thermostats reduce energy costs associated with the heating and cooling of your home by at least 20%. These savings add up annually and often pay for the cost of upgrading your thermostat in less than a year. In order to fully assess whether a smart thermostat is right for you, you should contact your local air conditioning specialist. He or she will be well equipped to discuss the potential benefits a smart thermostat could offer your home. Although these thermostats are easy to install (at least as easy as a light fixture), for those wary of tech installations, contacting your local A/C specialist would be the easiest route for installation.
About AAA Able Air Conditioning and Appliance
About AAA Able Air Conditioning and Appliance Co. Inc. has been a trusted name in South Florida's A/C service, thermostat installation, service, and repairs for over thirty years. Our technicians are experts in their fields and have seen and fixed it all. You can rest assured that AAA Able Air Conditioning and Appliance technicians will treat you not only as valued customers but also as members of our A/C and appliance family. Contact us today with all of your A/C and thermostat needs and questions.