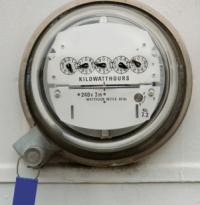 Making Sure You Keep Your Cool and Your Money
As we put into practice the many positive steps a household can take to save energy and cut down on costs without sacrificing comfort, there's also a shadow side of frequent mistakes and bad habits that need to be sidestepped.
Say what you will about the affairs of our state capital, but Tallahassee's energy auditors have visited over 40,000 homes across the state to see what these bad habits are and to glean ways Florida cities can help save on energy. From their findings, they've compiled and updated a list of common problems that cause high utility bills in the summer.
Remember, your energy-saving Do's are only as effective as your energy-saving Don'ts.
Mind the Family Pet - Every summer, an auditor reports finding a home owner's dog cooling off in the return air plenum underneath the house. What often happens is that the supply or return air ducts get disconnected beneath the crawl space. Don't let Spot trade your inside cool for his outside chill!
Don't Leave the Thermostat unchecked - An extremely common error occurs when a thermostat, and its faceplate, are miscalibrated, cooling the house at a lower temperature than it was set for. People will often have it set at 78 when it's cooling at 75 degrees. A simple solution is to match the thermostat against a handheld thermometer and compensate for the difference or else you can contact a qualified service A/C technician to take a look.
Move that Rug! - One of the most familiar reasons for the A/C system to not get enough air returned from the house is when the air grill is located on the floor and its covered, even partially, by a rug. This will increase operating costs and shorten the life of your central air system.
Cut down on In-Door Cooking - Summers are for barbeques anyway, right? The air conditioning runs incessantly while you cook inside. It's a good idea to cook later in the evening if you are cooking inside, or make a summer switch to salads, fresh fruits and vegetables. It's also prudent to use a microwave since it costs only a fraction of what a standard electric oven costs to operate, and a microwave won't heat the kitchen.
Don't Overwater your lawn - Even with restrictions, home lawns are often still overwatered. It helps to know a few tricks that will cut down on your use and save you money. 1.) Water the lawn in the morning and when there's no wind. 2.) Mow regularly, cutting only a third of the grass length and leave the clippings in the lawn. This helps retain moisture. 3.) Remove those water-thieving weeds before they get too big. 4.) Wait longer between waterings. This allows the roots to grow deeper, reducing its need for more water.
Don't Mistake Low for Fast - The air conditioner runs no faster at lower setting. It just runs longer. So when you leave the house, instead of shutting it off, set it at 2 to 5 degrees warmer, keeping your system balanced and your compressor from being overtaxed.
Check Your Dryer Vent - It will take longer and longer to finish a load of laundry if the dryer vent is clogged with lint. Also, a dryer might be venting lint onto the air conditioner's outside condenser coils, obstructing the system's ability to release heat.
AAA Able Air Conditioning and Appliance Inc. has been helping customers avoid these common mistakes, keeping South Florida residents as cool under the collar as they are under their roof. Our family-owned and operated business offers excellent A/C repair, installation and maintenance services and has been a reliable name in the community for over thirty years. We offer same day service, all day, everyday. You can contact us today for any of your air conditioner or appliance needs.