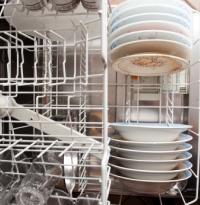 Maintenance Basics for Dishwashers
Dishwashers have been making our lives easier since Josephine Cochrane introduced the first really useful dishwasher in 1893. There had been other less practical models invented previously, which Josephine viewed with disgust.
"If no one else is going to invent a dishwashing machine," she is purported to have exclaimed, "I'll do it myself!"
And that's exactly what she did. It took her seven years before she unveiled her "dishwashing machine," and to her dismay, only hotels and large restaurants took any notice. Still she persisted. She founded a company to manufacture the "Cochrane Dishwasher." Her company eventually became KitchenAid. By the 1950's, dishwashers had proven their usefulness to the general public, and post-dinner relaxation has been enjoyed ever since!
While the dishwasher is by and large a low-maintenance appliance, there are some things the average owner can do to keep a dishwasher running smoothly for many years.
Keep Your Dishwasher Clean!
As long as you are running your dishwasher regularly, cleaning the interior of your dishwasher is not necessary. If the dishwasher has sat unused for over a week, however, it may begin to smell bad, and you may notice signs of mold. Just run your empty dishwasher with a cup of white vinegar instead of dishwasher detergent and all signs of soap scum should be removed. There are also products on the market like Finish Jet-Dry Dishwasher Cleaner, which should be just as effective at maintaining your dishwasher's sparkling clean interior.
Cleaning the exterior of your dishwasher is simple: A little dish soap on a sponge will wipe up messes from the outside of the dishwasher door.
If you notice rust forming on the inside of your dishwasher, try using a fine steel wool, or a household rust remover.
Clean your dishwasher's filter about every 6 months. The filter can usually be found near the bottom of the dishwasher cabinet or underneath the spray arm. Follow your dishwasher manufacturer's instructions on how to remove and clean it. If you notice any holes, be sure to replace the filter to prevent damage to the dishwasher pump and motor seals.
Check that the holes on your dishwasher's spray arm are not clogged with bits of debris. Remove the spray arm, which is usually reverse-threaded (turn it clockwise to remove it), being careful not to drop any small parts into the motor. Use a piece of stiff wire to poke through the holes and shake the spray arm to be sure that no small pieces of garbage have fallen inside. Use hot water and distilled white vinegar to scrub any mineral deposits away, and replace your dishwasher's spray arm.
Simple Dishwasher Repair
After time the plastic coating covering the tines of your dishwasher racks may begin to wear away, leaving the underlying metal exposed. In time, these will begin to rust if not covered. You can use steel wool to remove any rust that has formed and cover the tines with plastic caps available from your dishwasher manufacturer.
When to Call for Professional Dishwasher Repair Help
With proper maintenance, most dishwashers will take care of themselves. Occasionally problems may arise, however, that need the assistance of a trained dishwasher repair professional. If your dishwasher won't drain, if it leaks, or if it will not start, call an expert for dishwasher service. A professional dishwasher repair person can handle any service you do not feel safe troubleshooting or repairing yourself.
Dishwasher Repair Experts
AAA Able Air Conditioning & Appliance Co. Inc. has been repairing and installing dishwashers for over 30 years. We even sell all major brands of dishwashers if it is time to upgrade. As an FPL Participating Contractor, we can even help you to get rebates on qualified energy efficient dishwashers! For dishwasher sales, service, repairs, and routine maintenance with a personal touch, contact us today!