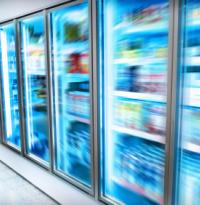 Properly Maintaining Your Commercial Freezer Will Benefit Your Business
As with any large appliance, routine maintenance of your commercial freezer is crucial to increasing its lifespan. Regular maintenance will also save your business a lot of money and lost time by preventing costly and frequent repairs. There are a number of preventative actions that can be taken to avoid the down-time experienced when a commercial freezer stops working.
Commercial Freezer Maintenance Tips
The most important step to take is to routinely clean the condensing unit underneath or above your commercial freezer.

Remove the dust from the fans, compressor, and condenser with a vacuum. Some people even use compressed air or a power washer if the space lends itself to that kind of cleaning. It is important to remember, however, not to blow the dust into the condenser with the compressed air. This can clog the fins and dirty the coil. Be sure if you use compressed air that you blow the dust out, not in, and use a vacuum as well to get rid of the mess.

Clean the inside of the freezer cabinet.

Cleaning your freezer's shelving and interior walls is a simple and important step to keeping your commercial freezer in good repair. Food substances such as spilled dairy products and juices (orange juice in particular) are highly corrosive. Peeling paint and rust inside a freezer cabinet have been the cause of many dings on a health inspector's report. Keep your freezer clean to avoid unnecessary replacements.

Check your door gaskets regularly.

The gasket is the strip of PVC material that seals the freezer door. Generally there is a magnetic insert to give added strength to the seal. If you notice any cracking, fraying or tears, replace the gasket to conserve energy and keep your perishables fresh. A leaking gasket will cause your commercial freezer to work too hard, and eventually loss of cooling capability will result. Replacing a gasket is simple and inexpensive, and will add time to the life of your freezer.

Be aware of the interior fans and lights.

Lights and evaporator fans (located on the upper interior of the freezer cabinet) need to be kept clean and free from obstructions. The fans, in particular, are sensitive to bumps and dings, which can cause damage to their motors. Check lights and their wiring for signs of deterioration, and be sure to call an experienced commercial freezer specialist if they are in need of repair.
Regular Inspections and Service of Freezer
Be sure to schedule routine maintenance inspections by a certified refrigeration service professional. An annual inspection by a qualified technician will ensure that your commercial freezer will offer you years of excellent cooling and add to the efficiency of your business.
Commercial Freezer Specialists
AAA Able Air Conditioning and Appliance Co. Inc. has served the South Florida community for over 30 years. Our family-owned and operate d business can perform any and all repairs, as well as routine service and maintenance. We carry all major brands of commercial freezers and can assist you when it is time to replace your old unit and install a new one. Contact us for trustworthy same-day service, 24 hours a day, 365 days a year!