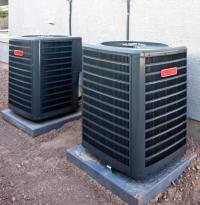 Replacing Your A/C Unit: How Long is This Going to Take?
As a rule of thumb, air conditioners only break down at the most inconvenient times possible. A compressor blows causing the unit to overheat. A fan blade bends, which leads to a system failure. Or the air conditioner has just simply aged out. Whatever the reason, when replacement looks to be the best option, the initial thought is: how long will this take? It's a fair question; one we encounter a lot. Nobody wants to be stuck in discomfort any longer than they have to. Of course, the less-than-fulfilling answer is: it depends.
However, the quick and dirty answer is: usually within a day, assuming conditions are favorable.
A Longer Installation Process
There are factors that will lengthen the time it takes to get the new unit up and running. It's important to be aware of these as soon as possible and make sure you work with a reputable air conditioning technician who will give an estimate for the work only after these factors have been considered.
Ductwork – A lot of the homes in South Florida come up short on ductwork. They're often leaky or misplaced and a new unit may require new ductwork or a resealing or rerouting of old ductwork.
Alternative systems – If you are having a geothermal system installed, trenches need to be dug for tubing and this causes an increase in installation time.
Sectional Work – Sometimes people will want to replace just the outdoor unit without replacing the indoor furnace or air handler. Obviously, replacing only the outdoor condenser or compressor will take less time, but it's recommended to replace both since they were designed to work together and it can otherwise negatively effect the Seasonal Energy Efficiency Rating (SEER).
Tallying It Up
A technician will perform calculations to determine what size air conditioner will be needed, taking into account the size, shape and layout of the home; window area, insulation, number of occupants, climate air filtration and personal comfort preferences.
Keep in mind too that HVAC systems align with most technological advances in that as they evolve, the size decreases. Most units are smaller now than previous ones. They run longer and perform more efficiently.
This should help give a general idea of how to schedule and timeline the process.
AAA Able Air Conditioning and Appliance Inc. has been serving the South Florida community for over thirty years. We've been able to offer our customers the only cold comfort they should ever wish to receive: that of a well-running air conditioner. We offer free estimates and same day service, any day, any time. Our technicians know the value and responsibility of being trusted into your home. It's our privilege to service your HVAC system and it's the community's trust that has kept our family-owned business in operation for so long. If you're one of our many repeat customers, and you haven't taken advantage of our referral-program, do so today.