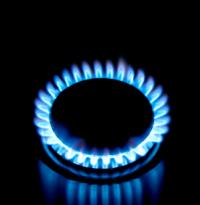 Replace or Upgrade to Natural Gas Appliances and Get Cash Back!
Natural gas offers many benefits: It is reliable, safe, environmentally friendly, and efficient. In addition, Teco Peoples Gas customers can save money when they switch to natural gas appliances or upgrade their existing natural gas appliances to new energy efficient natural gas water heaters, ranges, clothes dryers, and more. The Peoples Gas energy conservation program (http://peoplesgas.com/) offers rebates to residential as well as commercial customers when replacing electric appliances with new natural gas appliances, or upgrading their old natural gas appliances to newer models.
Choose Natural Gas Appliances and Save
Natural gas is safe and economical. It is also environmentally friendly:
Every time a Florida household replaces their electric water heater with a natural gas tankless water heater, that family's carbon footprint is reduced by roughly 3,000 pounds a year. That's the size of an average rhinoceros!
Peoples Gas offers significant cash back rebates to their customers and to those seeking to become customers for switching to qualified natural gas appliances. This will help with the initial costs of purchase and installation of these additions to a home. For example, the family above just switched their old electric water heater to a new natural gas tankless water heater. Not only did they reduce their annual carbon footprint by 3,000 pounds, but they also earned a rebate of $675! Even if they replaced an older natural gas water heater with their new energy efficient appliance, they would still earn a rebate of $550, so it really does pay to upgrade or switch to new natural gas appliances! Similar rebates are offered when switching out the following appliances:
Tank water heaters
Qualified high efficiency tank water heaters
Central heating or wall furnaces
Ranges
Clothes dryers
Space heaters
Please see the Teco Peoples Gas website for more details on residential rebates: http://peoplesgas.com/residential/conserveandsave/rebates/
Natural Gas is Good for Business!
The Florida Public Service Commission (FPSC) has approved The Peoples Gas Energy Conservation Allowance program to help the natural gas customer offset the initial costs of piping and installations of natural gas appliances. The allowance is $40/kW, from 6 up to 100 kW. For a customer installing new natural gas-fired space conditioning equipment to replace electric equipment, the allowance is $150 per ton, up to 100 tons. Customers can choose to directly receive their allowance check or have the allowance made payable to the appliance dealer or plumber/HVAC (Heating, Ventilation, and Air Conditioning) contractor who will then reduce the service bill by that amount. Check out the Teco Peoples Gas business rebate page for more information: http://peoplesgas.com/business/conserveandsave/rebates/
How to Request a Rebate
Switch your old electric appliances or equipment to new energy-efficient natural gas appliances or equipment.
Complete and submit an Energy Conservation Form, which can easily be obtained by following either of the Teco Peoples Gas links above or by contacting 1-877 TECO PGS (1-877-832-6747). Include copies of your receipt(s) and sales invoice(s) for purchase and installation of your new natural gas appliance(s) or equipment.
Be an existing Peoples Gas customer or be in the process of becoming a Peoples Gas customer.
Peoples Gas will not pay a rebate for used appliances, equipment that is more than one-year old from purchase date on receipt/invoice, or non-Peoples Gas customers. For Residential customers, the following added restrictions apply, and no rebates will be issued for these appliances:
A dryer in a residence where the builder previously received a New Construction rebate on the piping stub out
Grills
Firelogs
Any propane conversions
A maximum of two allowances can be paid for the same type of appliances installed (water heating or heating).
AAA Able A/C & Appliance Service sells and repairs gas appliances
AAA Able A/C & Appliance Service Inc. has been serving the South Florida community for over 30 years. We offer a full range of appliances from top manufacturers and our team of experts can get you up and running in no time. We offer same-day service, all day, every day. Contact us with all your natural gas appliance concerns.
AAA Able does the job right, fast, and won't break the bank.