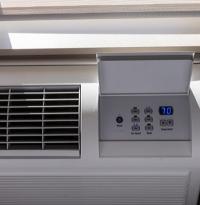 Using Internet Technology is No Longer Limited to Central Air
When it comes to customizing home climate through internet technology, we usually think of central air conditioning. While customers are getting used to smart thermostats made by companies like Nest and Honeywell, along with other ways of modernizing their HVAC systems, simple window units have mostly been excluded from the wireless trend. Until now.
Spring is here and as the days lengthen the hours of sub tropic sunshine, South Floridians who rely solely on window units no longer have to decide between waiting impatiently for their A/C to cool or paying the price of running it throughout the day. It's now possible to control it from afar, using your smartphone.
The only requirements for a wall unit to be adaptable is making sure that it's not an industrial grade system taking in over 250 volts. Also, if it's digital, it should be able to easily restart after a power outage. If it's not digital, it would just need to have a manual control knob, which most devises do.
The first step is getting a smart outlet – a single socket that plugs into a standard outlet on one end and to virtually any household devise on the other end, connecting it to the internet. You plug the smart outlet to the wall and your air conditioner to the smart outlet. Now, your unit can be controlled from any web source, including your smartphone.
Your air conditioner must be left on for the smart switch to work because it's no longer the devise but the switch that controls the flow of electricity. It turns the entire outlet on and off.
When it comes to selecting a brand, there's quite a few offering smart outlet services. Two that are generally recommended are Belkin's Wemo Switch and ThinkEco Modlet, which many utility companies use as a demand-response program. The main thing to look for in the brand is the ease in which you can use their smartphone app. The app will be synced with the switch, allowing you to turn on and off your window unit from anywhere. Say you're leaving work and you want to be greeted by a cool home. Just hit the on switch from your app while you're commuting and your A/C will start up. It's that simple.
There are also ways to schedule your A/C to turn on, so that you don't have to employ the foresight of hitting the on switch every time you want your home cooled. One option switches the unit on once a predetermined temperature is reached outdoors.
Window units aren't the only household appliance benefitting from internet technology. Lights, overhead fans, ovens, almost anything else you can think of can now be managed from afar. But as we know in South Florida, with the heat and the cost of cooling always being factored in to our plans, the marriage of internet technology and window units might be the most welcomed of modern matrimonies.
AAA Able Air Conditioning and Appliance Inc. has been keeping South Florida cool for over thirty years. We're a family owned company dedicated to building relationships in the community. Our experience on all air conditioning and appliance matters comes matched with our friendly service and we offer same day service all day, every day. Schedule an appointment with us today.