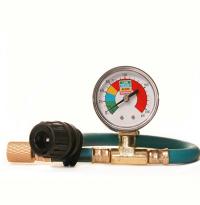 Understanding the Harm of Low Refrigerant in Your A/C System.
The life force of your air conditioner is its compressor, which gets cooled down and lubricated by refrigerant. When refrigerant levels are low, the unit could end up overheating and prematurely failing your compressor, causing the need to replace the compressor or even the entire condensing unit. A very inconvenient and expensive ordeal.
That's why it's important to know where your refrigerant level is at and what symptoms indicate harm caused by low levels. Low refrigerant in your A/C unit makes it to blow out warm air. Eventually your evaporator coil or the line set or other components will freeze and this leads to failure.
Common belief has it that air conditioners consume refrigerant, in the same way that a car will consume oil. Not the case. Ideally, you should never have to add or change out the refrigerant in the life of your A/C system. If you discover that the level is low, that means you have a leak and the problem shouldn't be addressed by just topping off the system. No refrigerant should be added until the leak is fixed.
Leaks are caused in systems that are 8 years or older because the units are connected with mechanical flared fittings. Over time, these fittings can rattle loose from the vibration of the system. Newer units are welded at their connection points, reducing the chance for leaks to occur. However, even in newer systems it's still possible for a crack to open wide enough for the refrigerant to drip.
Another concern stemming from a refrigerant leak is the fact that Freon (R-22) is still the refrigerant of choice. R-22 is classified as a controlled substance by the Environmental Protection Agency (EPA). It's a greenhouse gas deemed hazardous if released into the environment, as it depletes the ozone layer. Eventually R-22 will be phased out, but as of now, it's all the more reason to not delay in making repairs.
AAA Able Air Conditioning and Appliance has been servicing the South Florida community for over 30 years. We've helped clients with everything from fixing refrigerant leaks in their A/C system to replacing a refrigerator in their kitchen. We've seen it all and fixed it. Our family-owned business offers same day service, every day of the week. If you're one of our many repeat customers, take advantage of our Refer-a-Friend program and earn a $100 referral reward.