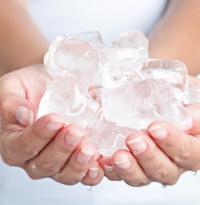 Trouble-Shooting Your Commercial Ice-Machine
Ice is no trivial matter. Between the many great restaurants in South Florida, one comes to mind as being favored above all others because of its exquisite crushed ice-filled fountain drinks. There's just something about the sensation of cold soda being secreted from a slushy bed of ice that makes the place stand out.
So what happens when that crushed ice comes out in flattened flakes, or huge cubes? Or if ice isn't coming out at all? What's going on if the ice machine just isn't keeping up with demand?
Low Ice
Some of the familiar problems found in commercial ice machines can be fixed immediately. Other problems aren't really performance issues but might come from changes to the surroundings, like if there's an increase in consumption and your customers and staff are using more ice. Water temperature and air temperature are other examples. If these temperatures are warmer, you will have less ice. Reduce the temperature, and the production will go back up.
Warm, incoming water is the biggest reason for low ice production. If the water temperature is 90 degrees or more, the freeze cycle timer will trip and the ice machine will automatically shut down. It's usually caused when the hot water of a dishwater ends up getting pumped into the cold water line.
No Ice
The first thing asked if you report no ice will be Is it Turned On? This is not the condescending question it appears to be. It's really that typical. You need to inspect the shut off arm at the top of the ice bin and switch it on, if it's off. Certain models have a red plastic lever which must be lowered first, before lowering the wire on the right side of the ice maker.
Another conventional reason for no ice is a damaged water supply line. First, check the line that runs to the machine and make sure it isn't just pinched. If it's broken, it might need to be repaired by a specialist. Also, make sure the water supply to your business is on.
Ohh, Ice!
Meaning, you find your ice machine producing oversized cubes. This happens when water leaks in to the ice machine, usually because the inlet water valve is leaking. The large ice cubes produced by this can get jammed in the evaporator and freeze it up.
These are common issues with commercial ice machines that every South Florida business needs to be aware of, less they want to find themselves in a mid summer meltdown. For more on water/ice quality and home ice machines, check out this earlier AAA Able post.
AAA Able A/C and Appliance Services Inc. has been the South Florida "Ice Specialists" for over 30 years. We repair, install and help maintain commercial ice machines, walk-in freezers, home ice makers and refrigerators, of all the name brand models. We're a family-owned and operated business, proud to be keeping Palm Beach, Broward and Dade County cool and comfortable. We offer same day service, all day, every day of the week. Contact us today for a free evaluation of you ice machine.