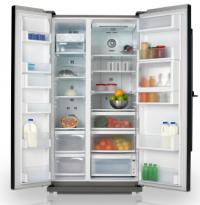 Quick Fixes to Prolong the Life of Your Refrigerator
Refrigerators are probably the most heavily used of all appliances—they are always on! A little time invested in regular maintenance of your fridge and freezer will pay off in the long run, saving you time and money in costly repairs or replacements. Refrigerators are relatively simple appliances, and lend themselves easily to basic maintenance. Here are a few quick fixes and general maintenance that the average person can perform at home before placing a call for refrigerator service.
Unexplained puddle in the refrigerator

Your refrigerator's drain tube is probably blocked. Unplug the refrigerator and use a turkey baster to squeeze a 50/50 solution of bleach and warm water into the drain tube, which is probably located near the back or bottom of the main compartment. Do this a few times, remove the drain pan from under the fridge, clean it out, and place it back in position before plugging the refrigerator back in.

Your refrigerator runs faster and longer than you do!

If your refrigerator seems to be always running and not cooling as efficiently as it should, then the condenser coils probably need to be cleaned. A dirty kitchen floor or lots of pets will aggravate this situation. The condenser coils will act as a dust magnet, pulling in all manner of dirt and pet hair. Clean under and behind the refrigerator with a vacuum at least twice a year. Be sure to use an attachment that can get under the fridge, and consider attaching a lightweight strip of filter material to the vent panel that sits underneath the refrigerator door. If you don't have a filter handy that you can cut, an old pair of pantyhose works great—just cut a strip of the material and attach it to the inside of the vent panel

It looks like it's been snowing inside your frostless freezer.

You probably have a leaking door gasket (the rubber part around the door that keeps it shut), allowing cold air to escape and cause your freezer to work overtime. To check if this is the case, place a high-powered flashlight inside the freezer and point the beam at the door. Close the freezer, turn off the kitchen light and look around the edges of the freezer door to see if any light escapes. If the light leaks out, your cold air is leaking out too, and you will need to replace the gasket. This can be purchased directly from your freezer's manufacturer or from a large-appliance retailer

Your ice maker has stopped making ice.

In many cases, the simplest solution is the best: Check to see if your ice maker has been turned off. There is a wire alongside the icemaker assembly. If it is raised, your icemaker has been turned off. There may be a lever to lower it. If not, lower the wire itself, and you'll be making ice again in no time!
Regular Maintenance to Extend Your Refrigerator's Life
The solutions above can be performed easily, but a little regular cleaning can go a long way to prevent even those simple problems. Here are a few quick cleaning tips to keep your fridge in tip-top shape!
Get rid of old or expired foods, and be on the lookout for mold. Mold can spread quickly, so get any rotting or moldy foods out of the refrigerator right away.
Remove and clean drawers, shelves, and racks. Many drawers may be safely cleaned in the dishwasher. If not, wash them in the sink with a food-safe cleanser or water and baking soda, rinse well, and be sure to dry everything with a towel to prevent mold and odors.
Wipe down the gaskets with a cloth dipped in warm water and dish detergent, and dry them with a towel. Check to see if the door seals properly by closing it over a dollar bill. If you can pull the dollar out easily, the latch may need adjusting or the gasket may need to be replaced.
Keep baking soda inside the refrigerator and freezer to control odors.
Defrost the freezer, following the manufacturer's instructions, and get rid of anything with freezer burn.
Professional Appliance Repairs - When to Call for Help
While most basic refrigerator maintenance can be performed on your own, there are times when professional refrigerator service is required. Toxic coolants under pressure and sensitive areas of the refrigerator need to be handled by an experienced refrigerator technician. Here are a few examples of times when you should call for professional appliance repairs:
Your refrigerator is not running efficiently and you hear a hissing noise.
The freezer floor has developed an oily residue.
You know the condenser coils have been damaged.
Your refrigerator is leaking large amounts of water and you are not sure where it is coming from.
The outer shell of the fridge sweats.
Even after cleaning the condenser coils, the refrigerator continues to cycle on and off.
Commercial and Residential Refrigeration at Its Best
AAA Able Air Conditioning and Appliance Co. Inc. has been providing the South Florida community exceptional appliance sales and service for over 30 years. In that time, we've seen (and fixed) it all! We are ice maker specialists, and carry all major brands of refrigerators and freezers. Have a lower estimate? We will match it! Contact us today for all your fridge/freezer maintenance and repair concerns.
The Better Business Bureau and over 150,000 customers agree: AAA Able does the job right, fast, and won't break the bank!