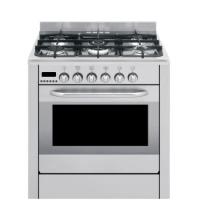 How to select the right stove or cooktop for your kitchen.
New home buyers, remodelers, appliance upgraders. Whatever situation you find yourself in, you want that new stove up and running so can you can wave goodbye to microwavable pizzas and get cooking!
First, get an idea of the space that will be used. Take measurements and compare them with the dimensions of the oven range you have interest in. Consider how the stove will fit with your kitchen cabinets:
Freestanding means that the oven range has the space to be placed anywhere and will be the best selection if there are no cabinets lining up with it on either side. They're also best if you're desiring five or more burners.
Slide-in ranges fit snuggly between the cabinets and work well if you're just replacing an older stove.
Drop-in ranges can only be fueled by electricity and are partially supported by cabinets on one or both sides.
If you're remodeling the entire kitchen and are not confined to limited spacing between cabinets, consider a counter cooktop and separate wall oven. This is an alternative to the traditional all-in-one oven range (more simply, just called a stove) and can add a modern look to your kitchen, along with making better use of space. A professional installer can help you decide where to place the wall oven and the cooktop.
Gas or Electric?
Of course, if you don't have access to a gas line, that settles the issue between gas or electric. Likewise, if you have a gas line but no 220 volt outlet, your choices are narrowed. Aside from access though, deciding between the two options is often a matter of preference.
Think G for Gourmet. In the world of serious foodies, gas is favored for the ability to easily control the heat for precision cooking. Once the burner is turned off, it cools much quicker than an electric cooktop. There's also the culinary aesthetics appeal of cooking with live flames.
Think E for Efficiency. Electric ranges are preferred by the functional, everyday cook. The smooth, flat surface of a cooktop is easy to clean and the electric coils allow for a much more even cooking, though they take longer to cool down than a gas burner.
Burner Precision
With all the modern updates, it's now easier than ever to fine-tune the function temperature with cooktop burners. You'll want to keep these features in mind when selecting your oven/range or individual cooktop.
Power Burners get the job done quickly and smoothly by cooking food fast.
Simmer Burners are great for melting solids, like butter and keeping the texture consistent until the need for it to be added. The simmer function also keeps food warm while cooking other dishes and is great for blending light sauces.
Dual Burners work well with basic pots and pans. It can control the simmering with smaller pots and you can put larger pans on the outer ring.
After you've considered what the right oven range is, then it's time to consider what the right price range is. A counter cooktop with a separate wall oven can often be more expensive than the all-in-one-traditional range. Although, there is a wide variety of trusted appliance names to choose from that can be fit to meet any budget. Taking advantage of a 10% discount when you fill out our online form submission also helps you save money.
About AAA Air Conditioning and Appliance Services
AAA Air Conditioning and Appliance Services Inc. has been serving the South Florida community for over 30 years. We've become the most trusted name in air conditioning and appliance sales, installations and repairs. Our team of appliance specialists can help you decide if your current stove/oven range needs servicing or if it's time for a new one. We give free consultations and appraisals and offer same day service, all day, everyday. Contact us today and we'll get you cooking in no time!