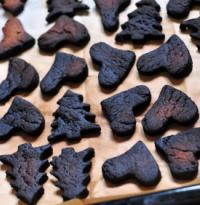 Enjoy a Successful Holiday Baking Season with Quick Fixes to Common Oven Problems.
The holidays are upon us, and with so much extra cooking and baking going on, it's easy to see that our ovens and ranges are working overtime! Unfortunately, all the extra use could provide more opportunities for problems to creep up with little time to find a solution. Be prepared with these tips on how to diagnose and arrange for repairs on an oven in need of a little TLC.
Common Baking Problems
A lopsided cake signifies uneven baking. Be sure your oven and its racks are level, and place your baking pans in the center of the oven so the food is not closer to one side or the other. Uneven baking leads to uneven baked goods!
If your cake sinks in the middle, the baking temperature was too cool. Resist the temptation to open the oven door during baking—a lot of heat is lost in this way, so use your oven's interior light instead. If you know your oven is not losing heat from an open door, use an oven thermometer (available most places that sell kitchen supplies, ranging from $4 -$30). This will allow you to see if the actual temperature matches the temperature you set for baking. If not, an oven repair technician can recalibrate your appliance for you.
Another indicator that your oven is in need of recalibration is if your food is burning unexpectedly. You may have gotten used to baking your cookies at a higher temperature, but if your oven is not calibrated properly, it may be off by as much as 50 degrees! You can test this yourself with an oven thermometer, and if the temperature does not match your setting, it is time to call a qualified appliance repairman. A skilled oven service technician can locate your calibration gauge and make sure it is set correctly to avoid any costly and time-consuming holiday baking mishaps.
Have your pie crusts been mushy, doughy, or wet? Is your cooked food "not so hot?" If you notice your food is undercooked lately, feel around near your oven door to see if any heat is escaping. If the door is closed as tightly as it can be, but you still feel heat outside the oven, your oven door may not have a tight seal and you are not cooking your food efficiently.
Common Stovetop Problems
Your electric stove burner won't heat. This is a sign of a weak electrical connection. Turn the burner off and remove it from its socket. Plug it in again and wiggle it around a bit. Does the burner feel loose? If so, take the burner out again and gently spread the burner prongs outward a tiny bit to make a tighter connection.
Gas stoves come with their own lists of common repairs, but some can be performed at home as routine maintenance. If your gas burner won't come on, you may have food spills covering the igniter. You can clean this off yourself with a toothbrush. If you have an electronic ignition stove, look for a tiny ceramic nub under the ceramic seal strike plate or on the stovetop. You should also check that the strike plate is set properly on the burner.
If your pilot flame on your gas stove won't light, clean the pilot hole gently with a needle. Remove any soot without reaming the hole wider, brush away any debris, clean the tube that runs from the pilot to the burner, and then relight the pilot.
When to Call for Professional Oven Repair
While many repairs are easily made in theory, there are often cases when a part in need of replacement is surrounded by many other more delicate (and costly) parts. In these cases it is best to call for help from appliance repair professionals, saving you money in parts replacement.
Do your oven light and fan come on without creating any heat? You probably have a broken element. This is a quick fix for an oven service technician, who can get your oven up and running, allowing you to bake those delicious holiday cookies everyone loves!
Perhaps you have noticed the kitchen units beside your oven are getting burned from heat escaping a faulty door seal. Or your oven may have not been installed properly, leaving too little space either side of the appliance for proper ventilation. These problems can be dangerous and costly. A skilled oven service professional can make the necessary repairs or offer suggestions on how to handle the ventilation issue, correcting these problems before they cause further harm to your family or home.
About AAA Able Air Conditioning and Appliances Services
AAA Able Air Conditioning & Appliance Service Inc. have been in business for 30 years, which means when it comes to oven installation, repairs, and service, they've seen (and fixed) it all! We proudly offer same day service, all day, every day to get the job done right, right away. We will match any lower estimate. Contact us to keep your oven in tip-top shape, and get you back to holiday baking in no time!