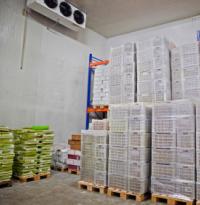 Lose extra costs in cooling perishables and gain a business edge
A walk-in cooler or freezer is the heart of every restaurant, cafeteria and convenience store. They also happen to create high energy costs. In a region like South Florida, refrigeration accounts for more than 50% of the electricity bill for a large grocery store and almost 30% for a small store.
Walk-ins can be far more efficient than this. Much of that energy use is unnecessary and can be reduced while also adding improvements to the product's quality.
Try implementing these energy-saving ideas.
Efficient Fan Motors – Install high-efficiency evaporative fan motors (for both walk-in coolers and refrigerated cases) to reduce motor energy use by up to 70%. This also reduces the amount of heat generated by the motor.
Energy Controls – Energy saving controls can reduce energy use by an average of 40%. Coolers and freezers can be controlled to respond to utility rates by shifting where the energy gets used. Contact a specialist to make sure the equipment is functioning properly before any control is applied.
Night Covers – Adding night covers to open cases will trap in the refrigerated air, keeping food colder. The covers reduce electricity use by up to 40% and the product temperatures stay lower for many hours after the covers have been removed.
Strip Curtains – A great way to improve efficiency is to add strip curtains. They reduce the strain on the compressor and can extend the product shelf life by up to 50%.
CFL Lighting – Switch incandescent lamps to ENERGY STAR compact fluorescent lamps (CFLs). This can reduce energy use by 75% and will cut down the heat added by inefficient lamps.
Auto Close Doors – Install auto-closers on the doors, or visible "Door Open" signs. This cuts on the loss of refrigerated air.
Minor improvements go a long way but nothing takes the place of regular maintenance upkeeps. It will keep energy costs down and help you avoid expensive repairs in the future.
Stay up to date with these maintenance measures:
Recharge low refrigerant.
Clean condenser and evaporative coils.
Inspect for any torn or loose door gaskets.
Insulate bare suction lines.
Check for refrigerant leaks.
Make sure defrost cycles are conducted regularly.
Inspect the refrigerated space for leaks and loose insulation or panels.
Also, keep in mind how you place products inside the refrigerated space. If the items are put in front of the evaporator fans, the air won't circulate properly and the performance of the refrigeration system will be greatly reduced. For more ways to keep your walk-in freezer properly maintained, check here.
Effective Business Solutions
With these energy saving strategies, you should be seeing a reduction in your electricity bills immediately. That, of course, bolsters up your bottom line – giving new business owners the confidence needed to gain a footing, and helping established businesses fulfill their plans for growth.
When a business saves, a business succeeds. AAA Able Air Conditioning and Appliance Co. Inc. has been a trusted name in the business community for over thirty years because we help companies do exactly that: save money. Our certified appliance specialists have seen it all, fixed it all, and have found every possible way to make it run better. Whether you need to augment your commercial walk-in freezer or replace your home central air conditioning unit, our family-owned business is the last word on all your appliance needs. We offer same day service, all day, everyday. Make sure to contact us today for a free appraisal.