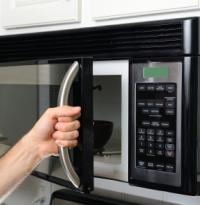 Common Microwave Repairs and Maintenance
As with any appliance, when a microwave oven begins to break down, the question of whether to repair or replace the microwave becomes crucial. After all, a new microwave oven is not as expensive as it used to be. A new small to medium microwave can be purchased between $60 and $100. Even costlier, more powerful microwaves rarely price above $300, so how much money do you want to invest in your old microwave?
One of the most important factors to consider is the age of the microwave.
If your microwave is over three years old and the warranty has expired, it is probably in your best interest to invest in a new microwave. Unless you purchased a high-end model, it is simply less expensive to replace any microwave that you spent less than $150 on in the first place. If, on the other hand, your microwave is newer and still under warranty, you may have to contact a factory-authorized repair shop. For microwaves that are out of warranty, a professional microwave repair person can get you cooking again in no time. At-home repairs are not recommended unless you have extensive experience working with microwaves.
A microwave can be very dangerous to an unskilled person attempting repairs.
Damage to the microwave itself, and even worse, to the person performing the repairs, is common when endeavoring to repair a microwave without the proper knowledge.
Common Microwave Problems
A totally dead microwave oven
Unresponsive to button controls
Blank display
No heat
Strange noises
Fans or turntables that do not work
These are only a sampling of the problems to which microwave ovens are prone. Often there are simple solutions. For example, if your microwave is not functioning at all, check to make sure there is power running to the microwave. Is the microwave plugged in? If the cord is damaged or hot, your microwave will need repairs.
One of the most commonly overlooked solutions pertains to the clock. Some microwaves will not operate unless the clock has been set first!
Perhaps your microwave's display is malfunctioning. Check to make sure the door is closed. If you have cleaned the microwave recently, water may have leaked inside the panel. The problem may correct itself if the control panel is allowed to dry out for about a week. For more serious repairs, however, one call to a skilled microwave repair professional will eliminate confusion, save time, and is a much safer option than attempting a repair by yourself.
Microwave Installation and Maintenance Tips
To prevent many problems before they start, proper microwave installation and maintenance is essential. First, be sure to read your owner's manual. This is the first step to ensuring the safe operation of your microwave in your home, and you will be able to learn all the features of your microwave oven. Second, be sure to leave adequate ventilation—about two inches on all sides. Also, it is very important that your microwave be plugged into a dedicated three-prong grounded outlet. Never allow children to use the microwave. Fires can easily be started by heating foods at unnecessarily high temperatures or heating for too long.
To properly maintain your microwave oven, clean it after use with a damp (not dripping!) cloth and a tiny bit of dish detergent for extra tough spots. Spray cleaners that can leak into the control panel are not recommended, but a small amount of isopropyl alcohol is a quick-drying solvent for especially sticky stains when water just doesn't cut it. Clean dust from the ventilation holes and grills—this will reduce the chances of your microwave overheating. Finally, a clean kitchen will avoid problems with bugs, who will eventually realize that the warm controller circuit board inside the electronics bay of the microwave oven is a great place to raise a family! Any microwave problems that are not easily addressed require a call to a microwave repair expert.
AAA Able Air Conditioning & Appliance Co. Inc. has over 30 years of experience repairing microwaves. We also carry all major brands of new microwave ovens and can offer advice when it is time for a microwave replacement. We can safely repair your existing microwave or replace and install a new microwave. We are proud to offer same day service, and will match any lower estimate you have received. Contact AAA Able today for all your microwave oven concerns!