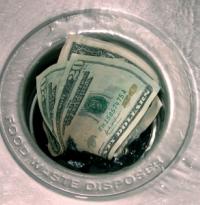 Regular Maintenance on Your Garbage Disposal Can Save You Money!
Garbage disposals, fondly considered a necessity by those who have used them, are one of the most convenient installations in a modern kitchen. By grinding up food scraps that would otherwise have to be scooped up by hand and carried to the garbage can, a cook can enjoy meal preparation mess-free! They also eliminate many of the clogs that might happen when certain types of food or other substances make their way down the drain. There are a few basic rules to follow, however, and a few regular maintenance tips that can prolong the life of your disposal, eliminating costly repairs in the future.
Garbage Disposal Basics
Your garbage disposal, also known as a waste disposal unit or garburator, can save space in your garbage can and mess in your kitchen, but it can not grind up everything. There are a few basic things you should never stuff into your disposal, no matter how tempting:
NEVER EVER place your unprotected hand inside the garbage disposal! If you must reach inside the disposal wear heavy gloves to shield your hand from the sharp blades. If a foreign object has fallen inside the disposal, first unplug the unit or turn it off at the circuit breaker and use a flashlight and tools such as pliers or a wire coat hanger to retrieve it. If you feel at any time that the job is too dangerous, contact an experienced garbage disposal repair company.
Fibrous materials and starchy foods, such as artichokes, celery stalks, corn husks, onion skins, or potato peels should not go into the garbage disposal. These foods will form a starchy, gummy paste that will eventually clog your drain. The long stringy fibers can get tangled up in the motor, causing a jam.
Never put coffee grounds or eggshells in your waste disposal unit. While coffee grounds won't harm your disposal, and they may eliminate odors, they produce grainy particles that will stick in any sludge in your pipes, leading to future clogs.
Do not pour grease, fat, or oil into your disposal. It may not clog the unit or your drain right away, but over time these substances build up faster than they wash away, so a clog is sure to follow.
Never put glass or metal into your disposal. Remember, your disposal is intended for biodegradable food material. Grinding glass and metal is unsafe and can damage your unit.
Pasta and rice and anything else that expands in water needs to go in the garbage can. These foods will expand when you run the water into the disposal, and will create a jam.
Other tips for running your disposal at its best:
Operate your waste disposal unit with plenty of cold, running water. Hot water will melt any grease or oils on your food scraps--when these substances cool, the fat congeals, causing a blockage in your unit. Allow the water to run until the unit is off and the grinding action has stopped completely.
Run your disposal regularly. This keeps moving parts from gradually becoming blocked with built-up food, as well as reduces growth of rust and corrosion.
Garbage Disposal Maintenance Tips
Regular maintenance on your garbage disposal can easily and inexpensively be done at home to prevent pricey repair bills. Try these simple tips to keep your disposal grinding away for many years to come:
Regularly grind up lemon and orange peels as well as ice cubes to scour away and dissolve debris inside the unit. The ice cubes will sharpen the blades, prolonging the life of your disposal, and the citrus peels will clean the walls, leaving a fresh scent you are sure to enjoy!
Avoid using harsh chemicals like bleaches or drain cleaners in your disposal. They can corrode the insides of your unit. Instead, throw a half cup of baking soda in the disposal, then pour in 1 cup of white vinegar. When the foaming stops, run water to rinse it out.
To rid your disposal of stubborn odors, drop 3 to 4 tablespoons of Borax down the drain. Let the Borax sit for 1 hour, then rinse with hot water. This will safely clean your waste disposal unit and eliminate any nasty odors.
By following these simple steps, you can enjoy the convenience of your garbage disposal for many long years!
AAA Able Air Conditioning & Appliance Co. Inc. has provided reliable appliance service, maintenance and repairs to the South Florida community for over 30 years. Our expert technicians have seen (and fixed) any and all garbage disposal problems, and our knowledgeable sales staff can assist you when it is time to replace your unit or install a new one. Contact AAA Able today for same day service, all day, every day!