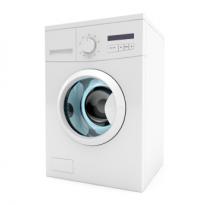 Keep Your Washing Machine Fresh
It's easy to forget that washing machines can become bacteria silos. Fabric softener and laundry detergent leave residues that attract mold and mildew, which will go unnoticed until you detect a strong or stinky smell coming from the loader.
Try these tips to make sure you're keeping your washing machine fresh and mildew free.
Before washing a load, spot check for detergent dribbles and use the clothes or towels that you're about to wash to wipe them down.
After washing, make sure you leave the doors and lids open for an hour. This will speed up the evaporation process, reducing any chance for mildew.
Use a washing machine cleaner once a month. Most of the name brand detergents include one in their line of products, with prices ranging from $4 to $8.
If it's time to give your washing machine a taste of its own medicine, follows these directions for a cleaner, freshened washer.
Top Loader
Use the normal cycle and select the largest load size, hot water and an extra rinse. If you own a high-efficiency machine with no agitator, follow the steps for a front loader.
Pour one cup of chlorine bleach into the tub or dispenser and run a full wash, double rinse, double rinse and spin cycle to kill any bacteria sticking to the agitator.
Rinse the removable dispensers with warm water and use a soft brush to scrub away any softener or detergent residue.
Front Loader
Select the preset cycle to clean the inside of the washer, such as Tub Clean or Clean Washer.
Add one cup of chlorine bleach to the dispense, or otherwise follow your model's manual directions. Run the cycle. Then, with a cloth, dry all puddles in the rubber door gasket.
Remove the dispense drawer and rinse it with warm water. Use a soft brush to scrub away any softener or detergent residue.
AAA Able Air Conditioning and Appliance Inc. has been servicing South Florida and all its appliance needs for over 30 years. Our family-owned and operated business offers excellent washing machine repair, installation and maintenance services and continues to be the most reliable name in the community. We offer same day service, all day, everyday. You can contact AAA Able today for any of your air conditioner or appliance needs.