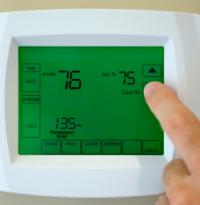 Installing a new, programmable thermostat can lower your energy bill!
There was a time when a simple manual thermostat was all anyone needed to control the climate of their home or business. No one worried that they were hanging mercury on the wall, or dreamed of a day when temperature could be controlled while sitting on the couch or even away from home. Of course, there were no television remote controls, either. Or cell phones. Or iPads, or laptops—and when the telephone rang, an actual bell sounded! It really wasn't very long ago, but technology has come a long way in a short amount of time. The same is true for indoor climate control technology, and today's programmable, or setback, thermostats offer more functionality, efficiency, control, and precision than ever before.
If your current thermostat is 15 years old or older, or reads a drastically different temperature from what you expect, it is time to replace that old thermostat. Installing a new programmable thermostat is recommended for the increased efficiency and features it will offer, such as energy consumption history reports, and the ability to control the thermostat while you are away. The newer programmable thermostats (also known as setback, or clock thermostats) are environmentally friendly, mercury-free, and safe for the whole family.
History of Programmable Thermostats
Honeywell's first programmable thermostat dates back to 1885, when inventor Albert Butz filed the patent for his "damper-flapper" automatic furnace regulator. The unit worked with a series of pulleys that would open and close the doors to a furnace, either allowing fresh air to fan the fire, or when the fire was hot enough, closing the damper to dampen the fire. Functionality has only increased from then on. The first clock thermostats hung on the wall, waiting to be set down at night by the user, and the clock would set the temperature up again in the morning.
The digital programmable thermostat models of this century have offered controls over ventilation, humidification and dehumidification, in addition to temperature. The control offered by installing one of these digital programmable thermostats made for an increased potential energy savings. The possible savings were so great, in fact, that some programmable thermostats earned the Environmental Protection Agency's Energy Star label. So many features and a complicated programming process, unfortunately, made operating these earlier digital programmable thermostats very complex, causing the Environmental Protection Agency (EPA) to suspend its use of the Energy Star logo for programmable thermostats in 2009. It seems that people found some of these early digital thermostats so difficult to use, that they were setting them incorrectly, leading to reduced savings, or even higher costs than necessary.
In the past three years, however, technology for digital programmable thermostats has progressed so quickly, with an emphasis on making thermostats more user-friendly, that Energy Star is currently developing new standards for programmable thermostats.
Ease of use is being incorporated into Energy Star's evaluation standards. The newest models are sleek and ultra-functional, featuring interactive color displays; and some, like the Nest Learning Thermostat (http://www.nest.com/) actually learn your preferences and schedule!
How much can you save by installing a new A/C programmable thermostat?
Consider the fact that over 10% of the energy used in the United States of America is used within a home. Heating and cooling accounts for over 50% of energy usage within the home. For every degree a home is kept warmer in the summer or cooler in the winter, roughly 5% savings begin to add up. If you set your thermostat back 4 degrees, you've saved 20% on your electric bill!
This means you could save $200-300 or more, depending on your average annual usage.
Perhaps you can see the appeal now! You can make up the cost of your new thermostat in savings within one year, and possibly even come out ahead. Keep in mind that savings will be greater in mild climates, so be sure to do your research and discuss your options with your local air conditioner specialist. He or she will be able to offer useful advice on which programmable thermostat is best suited for your needs and area's climate. Many of these new models are easy to install yourself, but if you have any doubts, think safety first and contact your neighborhood A/C professional for assistance.
About Authot - AAA Able Air Conditioning and Appliance
AAA Able Air Conditioning and Appliance Co., Inc. has been performing A/C and thermostat installation, service, and repairs in the South Florida area for over 30 years. We are experts in our field and take pride in operating our business with integrity. Contact us today with all your air conditioning and thermostat concerns.
More than 150,000 customers agree: AAA Able does the job right, fast, and won't break the bank.