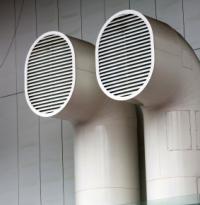 Commercial Ventilation: Complex Business for all Businesses!
The ins and outs of commercial ventilation can seem overwhelming to business owners. That is why it is so important to have an experienced Commercial Ventilation professional on your side when repairs or installations need to be made. A knowledgeable Heating, Ventilation, and Air Conditioning (HVAC) expert can pinpoint when ventilation needs to be addressed, and has the know-how to install or service all types of ventilation systems.
Who Needs Ventilation, Anyway?
Well, everyone needs it, in fact. Ventilation, (the "V" in HVAC), refers to the natural or mechanical process of supplying or removing conditioned or unconditioned air to or from any space. From our lungs to an entire building, ventilation removes noxious air and replaces it with fresh air. Ventilation removes biological pollutants (mold, pollen, bacteria and viruses, dust and animal dander), combustion pollutants like carbon monoxide and lead, and volatile organic compounds (VOC's) outgassed from paints, glues and building materials. You may run a restaurant, office, or warehouse, but commercial ventilation will play a key part in running your business, no matter what!
Basic Types of Ventilation
Natural Ventilation and Mechanical Ventilation are the two basic types of ventilation.
Natural ventilation relies on uncontrolled air movement from open windows and doors or "leaks" in the building's walls and roof. Depending on natural ventilation is inexpensive, but can be risky when outdoor pollutants enter the building, or when indoor pollutants become highly concentrated. It also offers no way to control humidity, which affects comfort levels as well as can cause problems in the way of mold growth.
Mechanical ventilation, on the other hand, is intentional air movement using air ducts and fans. Mechanical ventilation provides better Indoor Air Quality (IAQ) and improves comfort levels through filtration, dehumidification, and conditioning of the air coming into the building.
Spot ventilation is also necessary in bathrooms and kitchens to control moisture and remove odors. These come in the form of localized exhaust fans, and clear the air in a specific area only.
Ventilation for All Types of Businesses
There are many different types of ventilation systems to choose from, and each offers its own set of unique benefits based on the climate in which it is used. Since South Florida temperatures are high almost all year long, Supply Ventilation systems are one of the more frequently used types in our area. Supply ventilation draws fresh air in through an air "intake" vent and distributes it to many rooms by a fan and duct system. The ventilation system may have a dedicated set of fans and ducts, or it may work with the existing Heating, Ventilation, and Air Conditioning (HVAC) system of air ducts and fans.
Balanced Ventilation systems are another option for South Floridian business owners looking for top-notch commercial ventilation. These all-climate systems bring equal amounts of air into and out of the building. There are Heat Recovery Ventilation (HRV) systems and Energy Recovery Ventilation (ERV) systems. Because of the energy efficiency of many of these Energy Recovery Ventilation systems, FPL offers incentives to help business owners pay for qualifying units, which can cut energy costs by up to 10 percent and reduce your air conditioning load by up to 20 percent! An Energy Recovery Ventilation (ERV) system controls humidity, keeping customers and employees comfortable, as well as protects your building from mold growth. For more information on FPL's Energy Recovery Ventilation incentive program, please see their website. http://www.fpl.com/business/energy_saving/programs/interior/ventilation.shtml
AAA Able, Your Commercial Ventilation Specialist
AAA Able Air Conditioning & Appliance Co. Inc. has served the South Florida business community for over 30 years. We can sell, install, or service any commercial ventilation system, and can perform routine maintenance on your existing commercial ventilation system. As an FPL Participating Contractor, we can also assist you in getting rebates on qualified equipment. Contact us today for all your commercial ventilation needs!