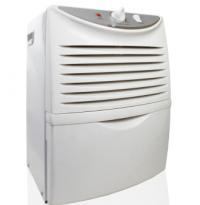 Things to Consider When Buying a New Dehumidifier
Dehumidifiers provide added comfort by removing excess humidity from a room or building. They also protect your home or business from allergies, mold, and mildew, offering improved Indoor Air Quality (IAQ). Too much moisture in the air can be a breeding ground for allergens, bacteria and viruses. Damp wooden furniture, floors, and window frames can be ruined by mold, and mildew can grow quickly in an unventilated bathroom. The dehumidification support provided by a dehumidifier is a welcome addition to any South Florida building. Before purchasing or installing a new dehumidifier, however, there are a few important things to consider.
How to Decide if You Need to Buy a Dehumidifier
Here are a few symptoms of the negative effects of too much humidity:
Frequent Allergies
Musty Smell
Condensation on the Windows
Room Feels Stuffy
Wet Stains on Ceilings and Walls
Rotting Wood
Size of the Space to Be Dehumidified
Different areas of a home or business require different dehumidification capacities. For a small space, such as a bathroom, closet, or under a sink, a small portable unit may work well. Many portable dehumidifiers will leave you with a bucket of water that needs to be emptied, while other dehumidification units, like the Eva-Dry Mini Dehumidifier, are equipped with a crystallized gel that traps excess moisture. Renewal (releasing the stored moisture) is as easy as plugging the unit into an outdoor (or well-ventilated) power outlet for 8-10 hours. The built-in heater releases the moisture in the form of water vapor and it will be ready for use again.
A medium-sized dehumidifier is ideal for spaces ranging from single rooms to those as large as 600-1,000 square feet. These units are for regular in-home dehumidification as opposed to commercial applications or use after water damage has occurred. Brands like Alen, Danby, Haier, and Soleus offer exceptional function as an everyday dehumidification solution.
Basements and crawlspaces often require stronger dehumidification due to the high rate of moisture in these areas. Aprilaire offers portable dehumidifiers for basements and crawlspaces as well as whole-house dehumidification options that work with your air conditioner to keep your air clean and cool year round.
Water damage can cause problems such as mold and mildew if the proper humidity levels are not quickly restored to 40-60%. Brands such as Ebac and Dri-Eaze offer powerful dehumidification in these situations.
Emptying the Dehumidifier
Considering how and when you will empty the dehumidifier is important when deciding which dehumidifier is right for you. Most units come in two varieties: those that have a condensate bucket that needs to be emptied, or a ported dehumidifier, meaning that the dehumidifier has an outlet hose connected to a drain. If your dehumidifier is in a bathroom, it is easy enough to empty the water reservoir right there. A dehumidifier in a crawlspace or other hard-to-reach area may have to be ported to avoid spills when emptying the reservoir, which may be heavy and awkward to move on larger units. Porting comes with its own set of challenges, considering that the draining must happen below the unit. The solution to this is a condensate pump. A condensate pump will pump the water to a higher location so that an existing drain may be used.
Dehumidifiers experts in South Florida
AAA Able Air Conditioning & Appliance Co. Inc. has provided the South Florida community with professional and reliable dehumidifier sales, installation and service for over 30 years. We carry all major brands of dehumidifiers and can help you select the appropriate dehumidification option for your home or business. Contact us today for all of your dehumidifier needs.